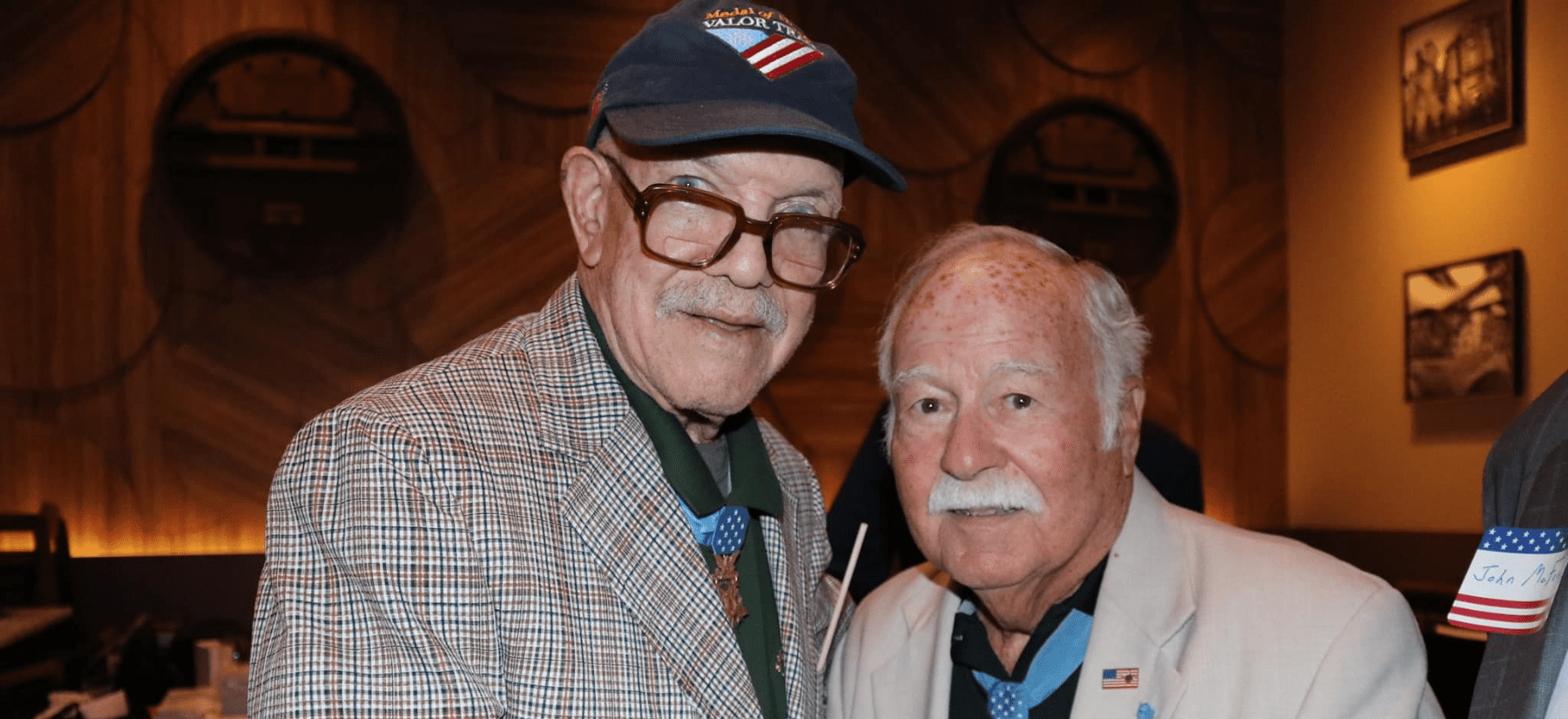 MILITARY BOWL HOSTS HOME OF THE FREE … BECAUSE OF THE BRAVE
Several dozen recovering service members, their families and their caregivers were guests as the Military Bowl Foundation and board member Paul Norman hosted the 18th annual Home of the Free … Because of the Brave dinner at Fogo de Cháo restaurant on Thursday night.
The event provides a first-class night out for recovering service members from Walter Reed National Military Medical Center in Bethesda, Md., and Fort Belvoir Community Hospital in suburban Virginia, as they gather with supporters on the opening night of the NFL season.
Also among the guests were two Medal of Honor Recipients, U.S. Marine Corps Col. (Ret.) Barney Barnum and U.S. Army (Ret.) Col. Paris Davis.
"The reason this has worked for 18 years is that it provides us with the opportunity to get you out for festivities, football and great food," Norman said as he welcomed the recovering service members. "But it is also important to share this evening with you and express our appreciation to you and your families for your sacrifices."
"We are gathering tonight to say thank you to those who have served our great country, worn the cloth of this country and been injured," Barnum said. "And we're here to let them know we are grateful for their service. Gathering in camaraderie – a lot of great food and a lot of great stories."
As has become a tradition, Norman worked his way through the restaurant, personally greeting each service member and caregiver and asking their favorite football team.
As everyone enjoyed their meal in one of the region's best steakhouses, they also took in the NFL season opener between the Super Bowl defending champion Kansas City Chiefs and the Detroit Lions. Several service members won gift cards and all were invited to attend the 2023 Military Bowl on December 27 at Navy-Marine Corps Memorial Stadium in Annapolis.
Military Bowl Foundation President & Executive Director Steve Beck remarked that this is one of his favorite nights of the year.
"Not only does it bring together a wide swath of our community, it also shows our collective support for those who serve our great nation," Beck said. "We thank everyone for joining the Military Bowl Foundation's mission. Thank you to everyone who purchased a sponsorship or ticket, those who joined us for the dinner and those who could not make it but sent in a donation. Thank you for helping us provide this special night for our service member guests, their relatives and their caregivers."
Home of the Free … Because of the Brave was sponsored by the Pellerito family; Paul and Annie Norman; Arthritis and Sports; Evergreene Homes; Pulte Group; Walsh, Colucci, Lubeley & Walsh; XCelerate Solutions; Synergy ECP; Kettler; Concordia Group; Espina Paving; Mill Creek; Stanley Martin Homes; nssX and Vets4Vets Foundation.
Proceeds from the event benefit Patriot Point, the Military Bowl Foundation's retreat for recovering service members, their families and caregivers on Maryland's Eastern Shore. Donations are welcome at patriotpoint.org.