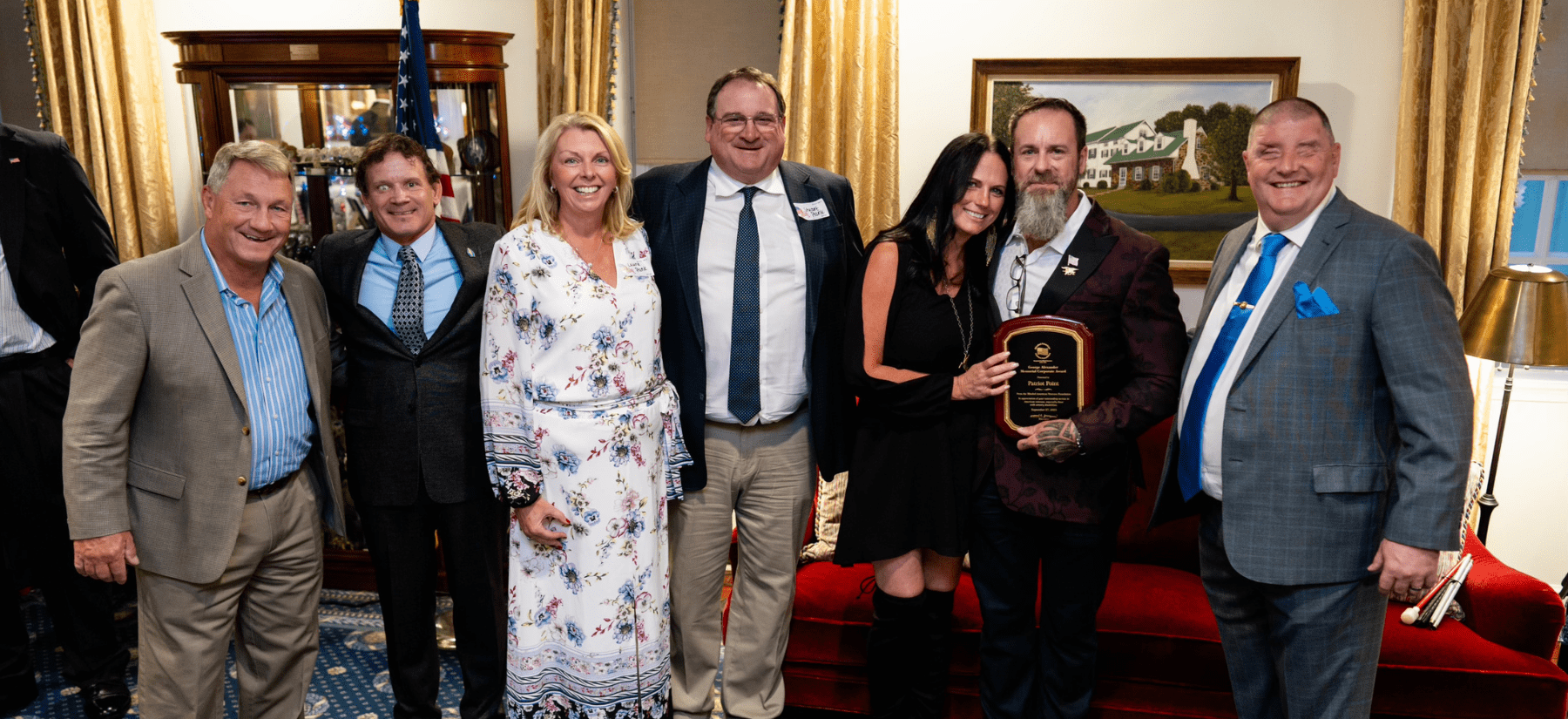 PATRIOT POINT RECEIVES AWARD FROM BLINDED VETERANS FOUNDATION
George Alexander Memorial Corporate Award recognizes Patriot Point's dedication
to helping service members who are blind and visually impaired
The Blinded American Veterans Foundation (BAVF) recently honored Patriot Point with the organization's George Alexander Memorial Corporate Award. The award was presented at the BAVF's 37th Annual Congressional Award Ceremony at the Capitol Hill Club.
"The Blinded American Veterans Foundation board recognized Patriot Point for its adaptive, evolving and innovative ways they ensure blind and visually impaired veterans are able to experience all that Patriot Point has to offer," BAVF President Michael Jernigan said.
Jernigan, who was severely injured and lost his sight while serving as a U.S. Marine in Iraq in 2004, visited Patriot Point last November for his first ever sika deer hunt. While sitting in the deer blind, Michael told Patriot Point's lead hunt guide Logan Rippons, "Being at Patriot Point makes me feel alive."
"We are one of the most unique nonprofits doing what we do anywhere in the country," Patriot Point Vice President Hugh Middleton said upon receiving the award from Jernigan. "We say that healing begins at our front gate. When you come down the lane, you change: Your blood pressure lowers and I can see the difference in people's eyes. They laugh. They joke. They talk. They stand taller. It's a transformation that happens within an hour. That's what Patriot Point does. It's the most gratifying thing I've ever been a part of."
Since 1985, the BAVF has held a Congressional Award Ceremony honoring various members of Congress, the community, and national service organizations who have made significant contributions toward furthering the Foundation's efforts on behalf of sensory disabled American Veterans. Among this year's other honorees were U.S. Senators Joe Manchin and John Boozman and U.S. Representative Mike Bost, as well as U.S. Army (Ret.) Col. Greg Gadson. Medal of Honor Recipient Bob Patterson was the guest of honor.
"It is an honor to be included in such a distinguished group," Middleton said, noting that Patriot Point this year will host more than 40 retreats and nearly 500 guests. "We look forward to welcoming our service members, their families and caregivers and providing them with an opportunity to continue their healing journey."